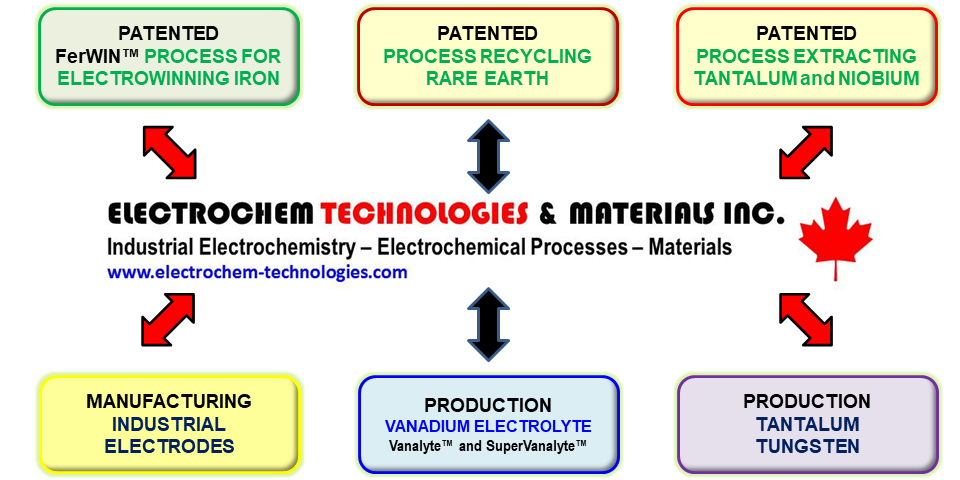 Copyright © 2010, 2011, 2012, 2013, 2014, 2015, 2016, 2017, 2018, 2019, 2020, 2021, 2022, 2023 ELECTROCHEM

TECHNOLOGIES

& MATERIALS INC. [Last updated:
January 2, 2023
] info@electrochem-technologies.com


Website: http://www.electrochem-technologies.com All rights reserved. Do not duplicate or mirror this site.
---
Keywords
:
industrial electrochemistry,
electrochemical engineering
, electrochemical processes, electrothermal processes, transfered and submerged electric arc furnaces, aluminothermic and carbothermic reduction, ferroalloys, electrofused ceramics, materials engineering, materials science, materials data, properties of materials properties, aqueous electrolytes, molten salts, fused salts, electrolysis, electrode kinetics, corrosion science, electrodeposition, electrowinning, electrorefining, electrocatalysis, electrooxidation, electrocoagulation, electrofloculation, electrodes, cathodes, inert anodes, dimensionally stable electrodes, chlorine evolution
, oxygen evolution
, mixed metal oxides (MMO), activated titanium anodes, oxide coated
titanium
anodes, lead anodes, refractory metals, molten slags, liquid metals,
lithium,
titanium, zirconium, hafnium, vanadium, vanadium pentoxide, vanadyl sulfate, ammonium polyvanadate, sodium metavanadate, vanadium redox flow battery (VRFB) electrolyte, vanadium electrolyte production, all-vanadium electrolyte,
Vanalyte
™
, Super Vanalyte
™,
The FerWIN Process™
,
VanadiumCorp-Electrochem Process Technology (VEPT), niobium, tantalum, tantalum pentoxide, chromium, molybdenum, tungsten, rhenium, rare earth elements,
recycling of rare earths,
thorium, uranium,
cesium tungstate, applied mineralogy and petrography,
extractive metallurgy, pyrometallurgy, hydrometallurgy, electrometallurgy, natural
radioactivity, recycling, mining residues, metallurgical wastes, industrial wastes.